The roots of the Pécs Wine Growing Region go back to Roman times. There are many kinds of outstanding white wines growing on the Southern foothills of Mecsek, thanks to lots of sunshine, little rain and the extremity-free submediterranean climate.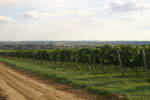 The excellent Riesling, Furmint, Chardonnay and the unique Zirfandel are gorwing in vineyard and in cool wine cellars. There is always something to eat with the corpulent or light white wines rich in flavours, scents and extracts: roasted lamb or pig, red peppered sheep's cheese on rye bread with spring onion. Beside the Wine-Gorwing Region of Tokaj-Foothills, this is the highest situated vineyard - all in all 936 ha nowadays. The capital of this region is Pécs (Sopianae) which has been the commercial centre of this area since the Ancient times.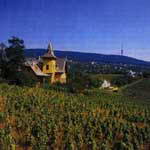 There are three districts belonging to this wine growing region:

District of Pécs:
Cserkút, Hosszúhetény, Keszü, Kővágószőlős, Kővágótőttős, Szemely, Mecseknádasd, Pécs, Pécsvárad

District of Versend:
Babarc, Bár, Bóly, Dunaszekcső, Hásságy, Lánycsók, Mohács, Monyoród, Olasz, Szajk, Szederkény, Versend

District of Szigetvár:
Helesfa, Kispeterd, Mozsgó, Nagypeterd, Nyugotszenterzsébet, Szigetvár

Because it is scattered, you can reach the wine region from many ways: #6 main street, #57, #68, #66 streets.
Interesting hungarian links:
* http://www.borportal.hu/modules.php
?name=Wineportal&wine_category=1&wine_region=21&wine_subregion=21
* http://www.vendegvaro.hu/gen?genid=53995
* http://www.utisugo.hu/bortura/pannon-borregio/pecsi-borvidek/hotel-apartman-info-7276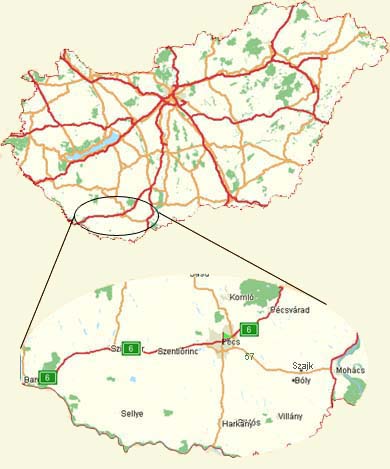 Hungarian source:
http://www.utikonyv.hu/0-release-2/objektum.php?nyelv=1&id=122&sablon=117
http://www.bor.info.hu/Borvidekek/6.Mecsekaljai/mecsekaljaiborvidek.html
http://www.utvonalterv.hu